I was at the WWII Memorial to photograph Senator Dole yesterday. And while I intended to make a few frames and leave. Nevada and Columbus came in together and some four hours later, the last Honor Flight left and Senator Dole and I packed it up and headed home.
Due to scheduling, I have been missing Columbus. Today I managed to meet the new Honor Flight Columbus lead Pete MacKenzie, Beth Johnson and Cindy Kanwar. As they had not planned a group shot, they left it to me and we managed to round up ALL of the veterans which took a few minutes. The volunteers and tourists kindly obliged my constant pleas to move back and we managed to get it done.
Beth Johnson has been doing an amazing job of social media and web for Honor Flight Columbus and she had her day with her today on his birthday. Cindy Kanwar and I after many posts exchanged on Facebook finally had our selfie in person and Pete MacKenzie's daughter Melanie met the buses on Homeland Drive.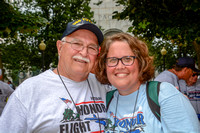 DSC_9490
srbcindy
20180609-DSC_9362
Senator Dole with various and sundry
20180609-DSC_9318
Jon Yuspa's mom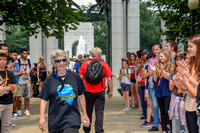 DSC_9308
DSC_9422
DSC_9442
DSC_9487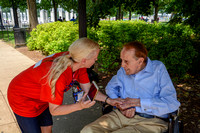 DSC_9491
20180609-DSC_9501