policemototriptwosolo
buseschicago016

Honor Flight Chicago roared into the Iwo Jima Memorial with 250 people and Arlington County once again provided the escorts. With sirens and lights blaring, they were an impressive sight as they cruised into the Iwo Jima Monument grounds. We took a loop around the Memorial and we took off for the Air Force Memorial where the Air Force Drill Team put on a dazzling display.
Next stop was the WWII Memorial which I always recommend for group photos because it is surrounded by symbolism and your veteran and sponsor will always have a reminder of the history involved.
_DSC2486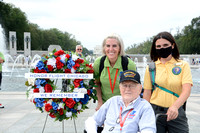 _DSC2434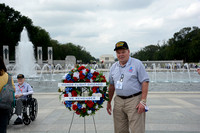 _DSC2438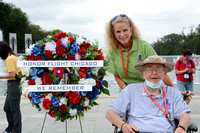 _DSC2442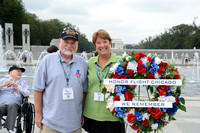 _DSC2448
_DSC2451
_DSC2459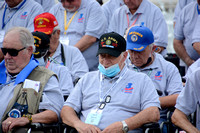 _DSC2502
_DSC2506
_DSC2505
_DSC2516
_DSC2514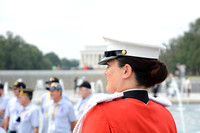 _DSC2484
From there to the Korea, Lincoln and Vietnam where the veterans spread out. I was enjoying an ice cream bar and conversation with a couple of the veterans when the skies opened up. Wow! Lightning, Thunder, flooding ...the works but no match for the well-prepared which I was not.