Three large Honor Flights on Homeland Drive

I was delighted to be invited by Scott Knauf to visit with Upper Peninsula Honor Flight. I headed down to the WWII Memorial thinking it would be a slow day but when I arrived, the Mall was jammed with school children and tourists and Homeland Drive was packed with the buses. The Park Police came through and within minutes, the only buses left were from Northeast Indiana, Upper Peninsula and Old Glory Honor Flights. Liberty Phillips of "operationmeatball.org" took the initiative and directed the school children to line the walkway and so we had a great cheering entry into the Memorial. The Phillips sisters have been visiting with Honor Flights for sometime and certainly enhance the Memorial ambiance.
_DSC8471
Sidney Wade and Senator Debbie Stabenow at the entry to the WWII Memorial
Senator Debbie Stabenow and reenactor Sidney Wade were on hand to greet veterans I have always advocated more media on the flights and all the flights had great photographers and videographers and even live media throughout the day. Great stuff! I've been looking through the images and video created to promote the hub websites and it's impressive.
Honor FlightA lone veteran walks the gauntlet o of cheers, handshakes and hugs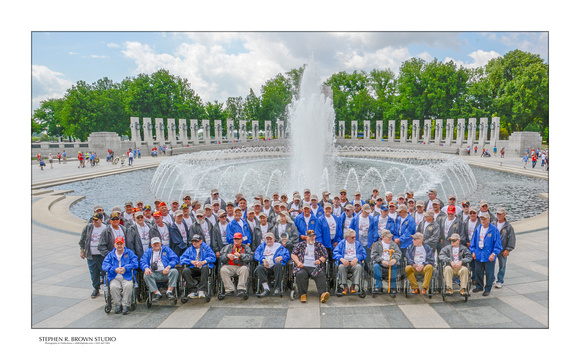 Upper Peninsula Honor FlightAll the Honor Flights are getting more sophisticated. This group shot was transmitted with a logo within an hour of being taken.
WWII VeteranThis WWII Veterans with his daughter and the only WWII Vet on the flight.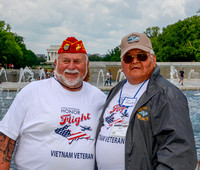 _DSC8479
Upper Peninsula and Northeast IndianaScott Knauf, Brent Roddy , Ramprat Turiff and Liberty Phillips — with Liberty Phillips.
KOREA/LINCOLN/VIETNAM
Korea Memorial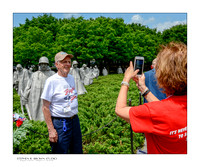 20180523-_DSC8531
HERDING CATS: OLD GLORY HONOR FLIGHT

As I wandered past the Lincoln to the Vietnam Wall, I literally walked into this image set up by Diane McDonald and Tami Stieger and grabbed a frame. Moving along I ran across Drew McDonald and a couple of his guys do a quick tire change on a Wheelchair. I am impressed! It's the constant "little things" that distinguish all the hubs.
PIT STOPOld Glory mechanics can change a wheelchair on the road. Preparation is 90 percent...
The young soldier below was with her father who had composed a set of notes which she read by the name of everyone of his fallen comrades. it was moving to see her do what he couldn't bring himself to do.
20180523-_DSC8578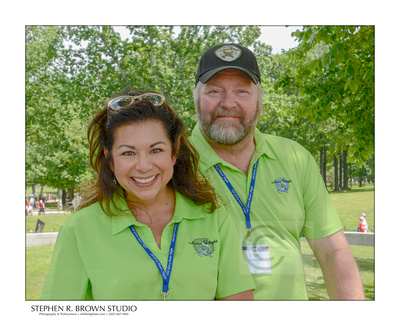 Linda and Drew McDonaldThe President and Board of Old Glory Honor Flight.