A beautiful day and in need of a walk I headed down to the Lincoln Memorial where I finally had the opportunity to photograph Honor Flight West Central Florida. Bev Frey and April Dennis and I always see each at the Summit every years but never get together on the Mall so this was special. With red flag in hand, Bev and Matt their photographer lead the group out on to the Lincoln Memorial Plaza and began to set up the group shot. I love watching...especially as I am not "herding cats."
Tami Stieger was photographing for Florida so I was free to wander and chat. I am really a better chatterer than I am a photographer and I love talking to veterans but also the volunteers. Their stories of how they got involved in Honor Flight are always cool and they are routinely cool people. The guardians and volunteers make it all work and I always marvel at the enormous amount of energy and organization that goes into an Honor Flight beginning with "follow the orange flag."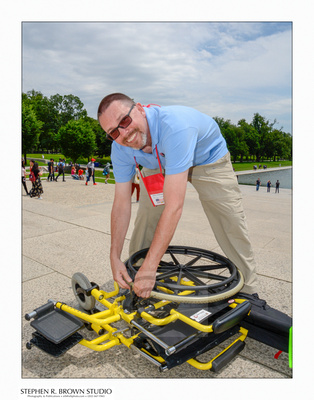 20180605-_DSC8775
I am beginning to collect a series on wheelchair repairs at the Lincoln. I think by the next Summit, I'll have fleshed out my collection. Note the snazzy fluorescent yellow pain. Easy to find and a racy color. There was a short period in Honor Flight's history where one of the electric scooters manufacturers got involved with Honor Flight. It ended quickly as the vets when given the choice of the "rabbit" or the "turtle" always pushed the rabbit and terrorized the Mall. Good stuff. One guy ran over Senator Dole's foot. That was pretty classic...and also ended the brief life of the scooter in Honor Flight history. Now everyone carries their own chairs and Missouri has custom banners, Chicago has stenciled backs. And when you look underneath the bus and see the rows of chairs, you realize just how driven Honor Flight is to get veterans to see the Memorials.
Getting my 10,000 steps in, I walked both to the Lincoln and Korea Memorials photographing a lot of veterans whose guardian was a son or daughter. Hard to make a bad picture!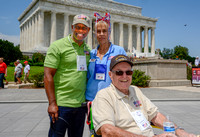 _DSC8799
_DSC8787
_DSC8777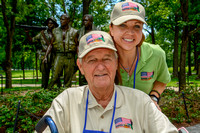 _DSC8784
_DSC8785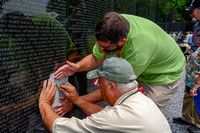 _DSC8791
_DSC8792
_DSC8804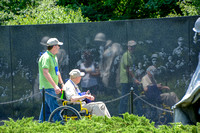 _DSC8806
I noticed groups of orange shirts appearing from the path that leads to the WWII Memorial and started down that way only to find myself chatting with Deb Wickenham of Flag City Honor Flight. She also had the Mission Barbecue truck and tent set up for lunch and well...so much for the calories I walked off. Nice chat at lunch with a fellow who was keeping his guardian on guard!
And as I walked the final couple of hundred yards to the WWII Memorial Plaza, nine Honor Flight buses appeared within the space of fifteen minutes and so did several groups of school children who all seemed to know they should line up to greet the veterans and so they did.

_DSC8855
_DSC8852

_DSC8858

_DSC8865
_DSC8857
_DSC8861
_DSC8862
Happy BirthdayThis fellow was accompanied by his daughter who's birthday it was. Nice way to spend some time!
More to come...Chicago is on its way in and they don't make days like this anymore so lets take advantage of it! Living in Paradise!