With seven Honor Flight hubs inbound and a couple of marathons in progress, I decided to get to the WWII Memorial and let the hubs come to me. This gave me a few minutes to talk to everyone, make a few useful photos for each hub to use, exchange tips, schedule events and look forward to a great Fall Season. While this was not an official "Super Saturday", there were over six hundred veterans plus guardians on the Mall. Each flight has different customs and ceremonies and I am always on the watch for something new.
HONOR FLIGHT SOUTHERN FLORIDA
Unique among the days's many touching moments was Florida's Rick Asper presenting Senator Dole with a piece of the granite from the quarry from which the WWII Memorial was taken and engraved with his name. It's a rare piece and elegantly presented. You'll notice the young woman to the left behind Rick who is doing live social media with her husband. I think it's great that more and more flights are traveling with social media teams who produce photography and media livestream.
Rick Asper presents granite gift.Carved and cut stone from the same quarry as the WWII Memorial was made.
Flags of our HeroesSouth Florida paraded their "Flags of our Heroes" program around the Memorial.

Rhode Island Fire Chiefs Honor Flight
George Farrell and crew were in next with a quick ceremony and a photograph. I always get the sense with the Fire Chiefs that they are ready for anything. Their enthusiasm and teamwork impress and is probably the reason they are Chiefs.
RI Fire Chiefs
George Farrell lines up veterans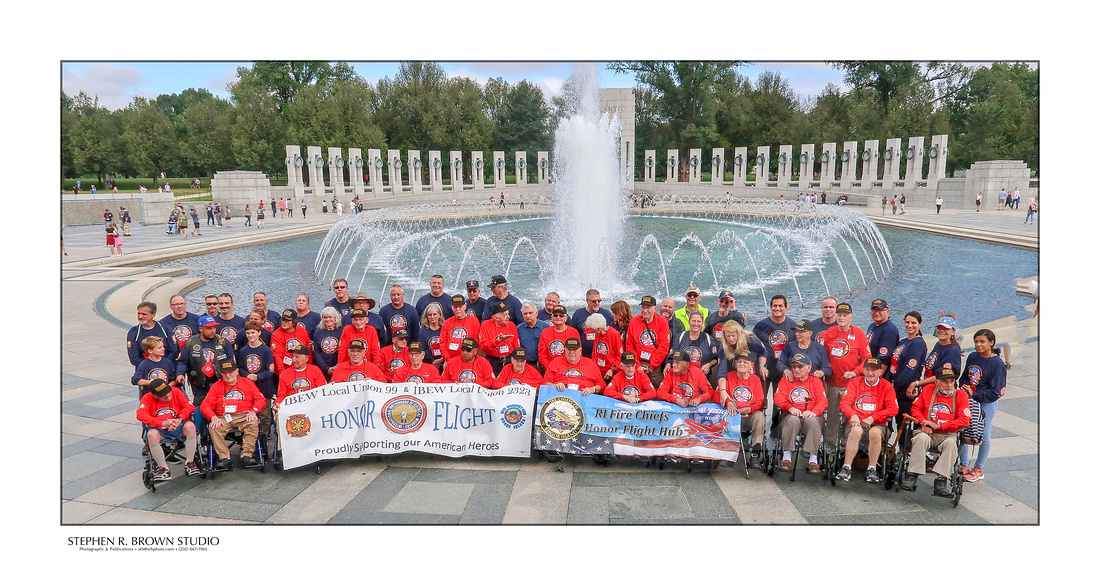 RI Fire Chiefs
NOTABLES
John Liszewski travels all the way from the Eastern Shore and his final mode of transportation is sometimes the metro with his display items in a small cart. Dedication!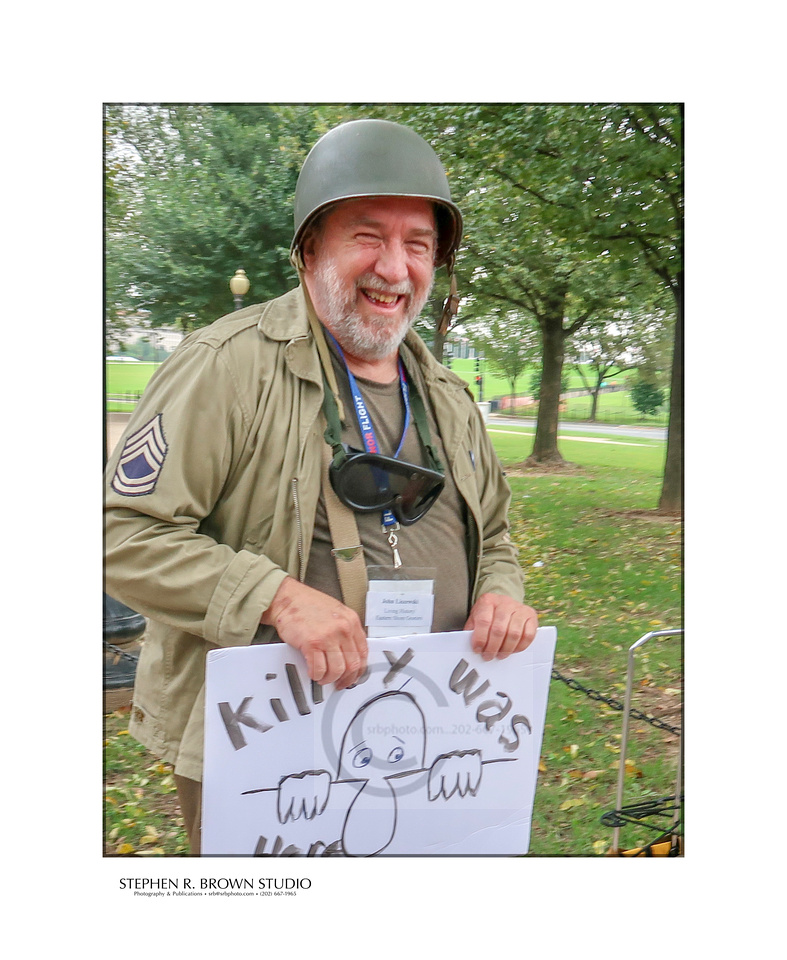 John Liszewski A regular from the Eastern Shore, John carries a flask and other gear to keep the veterans amused
Talons OutBobbie Bradlee and Lora Nelson Block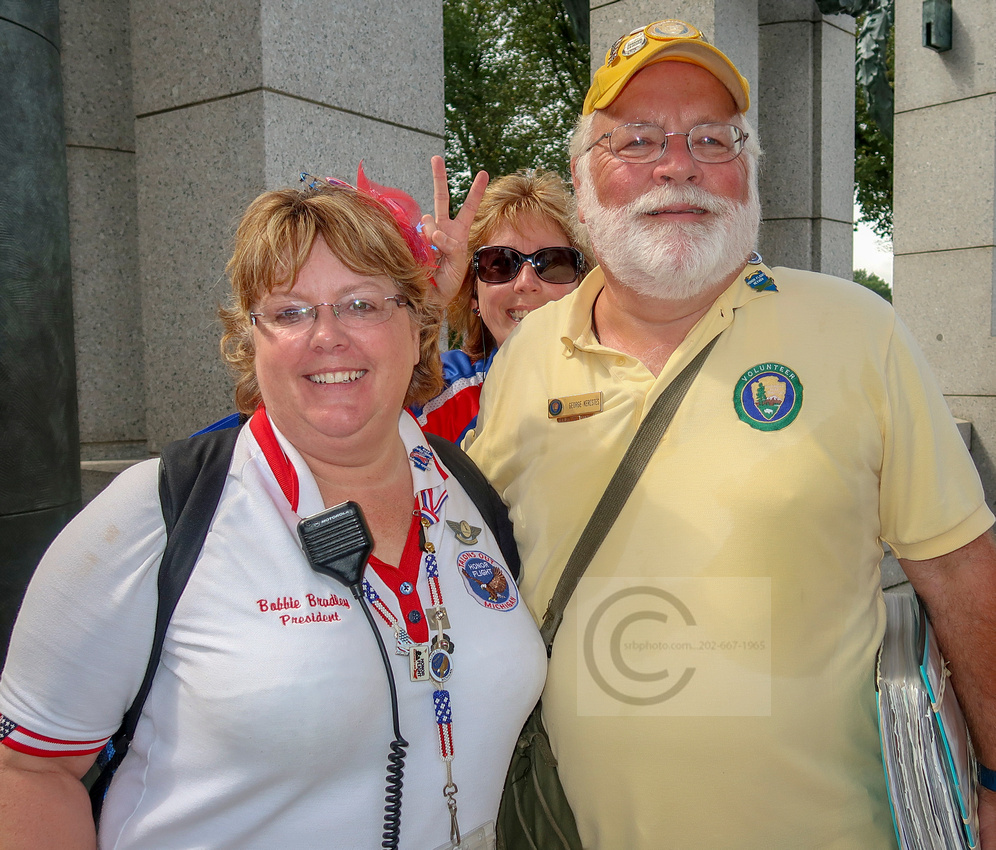 RegularsBobbie Bradley and George Kerestes under the eagles!
Freedom Honor FlightCheryl Higgins and Teresa Larsen strategize over the day's schedule.
Flags of HonorRon Newsum and Senator Dole chat about the Flags of Honor Program.
SENATOR ROBERT DOLE
I very much admire Senator Dole and try to emulate his persistence. I always try to make one good frame of him when he is with the veterans. The rest of the time I am practicing my photo skills with other peoples phones!
Senator Robert DoleHardest working man in town!
Paula Nelson's motto! We were lucky and it seems that rain or shine, we always get by.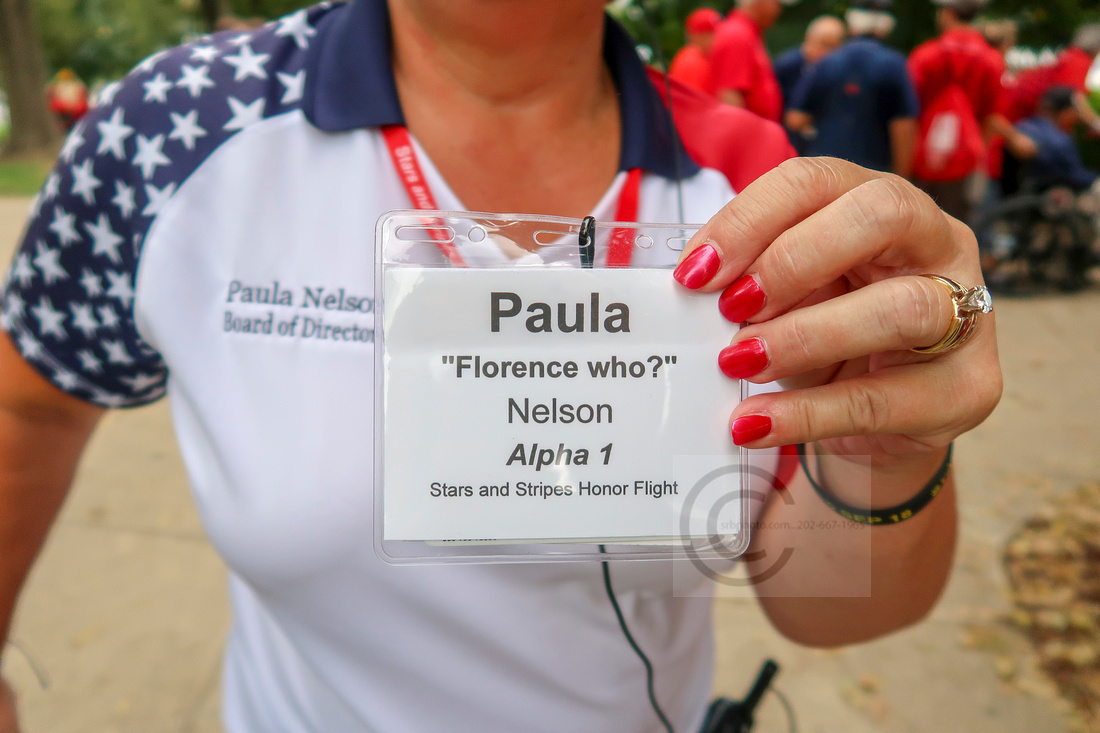 Florence Who?Summing up the day!