Groups are concentrating on Vietnam this year and the Vietnam Memorial is crowded. I find this memorial very moving and was I ended up "minding my tripod" all night for the opening ceremony as I was at the Apex where the walls join.
Honor Flights transitioning to Vietnam Veterans

Michael O'Brien, NPS volunteer at the Vietnam Wall and I were talking about the transition of Honor Flight to Vietnam Veterans and the increased ladder climbing for etchings. The National Park Service volunteers who are all Vietnam vets are like me getting to be "long in the tooth".
At Vietnam, approximately 50 percent of the names can only be reached by ladder and the rangers and volunteers are the only people allowed on the ladders so try to know where the names are. If the hubs and veterans know the location of the name beforehand, the process will go quicker. Michele Spry of Central Missouri Honor flight has worked out a very efficient process for making the etchings and I asked her to write up her process which will apply to the Korea Memorial although given the angle at which the Wall of Remembrance is built it looks as if the designers are out to discourage the process.
As you'll notice, she brings her own paper which she prints with the Missouri Honor Flight logo so it makes for a great framed piece. As soon as the flight lands Michele sets off by cab to the Vietnam Wall to make the etchings requested by Veterans and neighbors in the Central Missouri area. She has made as many as 80 etchings in two hours. I decided to ask Michelle to write up her formula for getting so many done.
---
Vietnam Wall EtchingNotice the Honor Flight Central Missouri logo top left
"Hey there Stephen R. Brown!
Just wanted to follow up on our conversation from Monday about what we (Central Missouri Honor Flight) do for our Vietnam Veterans. Steve Paulsell saw a need and asked me to take this on many Honor Flights ago. I love that we do this as it's just one more service we can provide for our veterans on such an emotional yet memorable day in Washington, DC. I realize not every Honor Flight operates like we do (ie: meeting our veterans at a Pre-Flight meeting, then going on the Flight and having a Welcome Home Party 2 weeks later) however I think it would be somewhat easy to incorporate into their routine if they wish to add this memorable yet honoring piece of their trip. (It would certainly help the volunteers at the wall not to become so overwhelmed with names when they all arrive!)
The form is given out to veterans and collected by Michelle.

Pre-Flight:
This is when we get to meet our veterans and go over what will take place for Flight Day. This is also where Steve announces that the 1/2 sheets of paper (see attachment - they are cut in half) on their tables are for any names that they would like looked up and etched (we call them etchings... I know this isn't correct but rubbings sound funny) we will do our best to find the names they request. Many times they know the names of the fallen and the date of their death. However, often times they may only know them by Butch Jones when their real name is Myron Jones for example (I just made that name up). There are many times it takes a little extra work to find a name... I have called High Schools to ask, looked up memorials online for a certain City and State to find a name or simply "got lucky".
Typically when I research a name I start with Google.... I will type in the name followed by Vietnam Veteran (Rodney Griffin Vietnam Veteran) and it will show me a name on the Virtual Vietnam Wall of Faces. This will allow me to get a correct spelling of the veteran. (I also have a copy of the Vietnam Veterans Memorial Book that is at the top of the memorial that is carried with me to Pre-Flight and Flight Day for quick reference as well). If I need additional help finding a name I will call the veteran... amazing what you can accomplish talking to them and asking questions! Once I have all the names located with correct spelling and coordinates on the wall I begin to print out my packets....
Excel Spread sheet in order from 70 West to 70 East
The packets start with a cover sheet (see attached) and then the 15-ish page packet of information on the history of the wall. (This information was pulled from the http://thewall-usa.com website) I do this to give them a little more knowledge on the wall, who designed it, how names are added and then give them some interesting statistics from the guys who were killed in action (see attached scrolling towards the back of the packet - really interesting). Then I start entering each name on the website http://thewall-usa.com and printing off what information it has about each name that was KIA. Again, just a nice touch to give them a little more detail about their brother, friend and who served with them.
As far as Honor Flights that don't meet their veterans prior to Flight Day they could simply have someone make contact or send an e-mail (most Vietnam veterans have an e-mail or spouse that has one) requesting this information ahead of time. I look up names Flight night and while on the plane and buses - as well as while we are at the wall.
After I print my packets and the names that were requested (see attachment of example) then we start adding the names to a spreadsheet (see attachment) and put them in order from 70 W to 70 E. We do this so that when I enter the wall at 70 W I can start etching (rubbing) the names without bouncing all around. It literally takes me a couple minutes per name to locate and do the etching (rubbing). The ones I can't reach I simply leave blank or put a star next to it and keep moving until I am done. Then I get a volunteer with a ladder and we begin moving in order from West panel to East panel until they are all done.
For each Honor Flight we usually get around 80-110 names (This time was much less but we still added another almost 20 names once I arrived to Flight Night - then I manually write names for lanyard). I like to think I have a smooth process. (Of course when we get to DC I immediately take off in a Uber and go to the memorial so that I can focus and get it knocked out before our group gets there)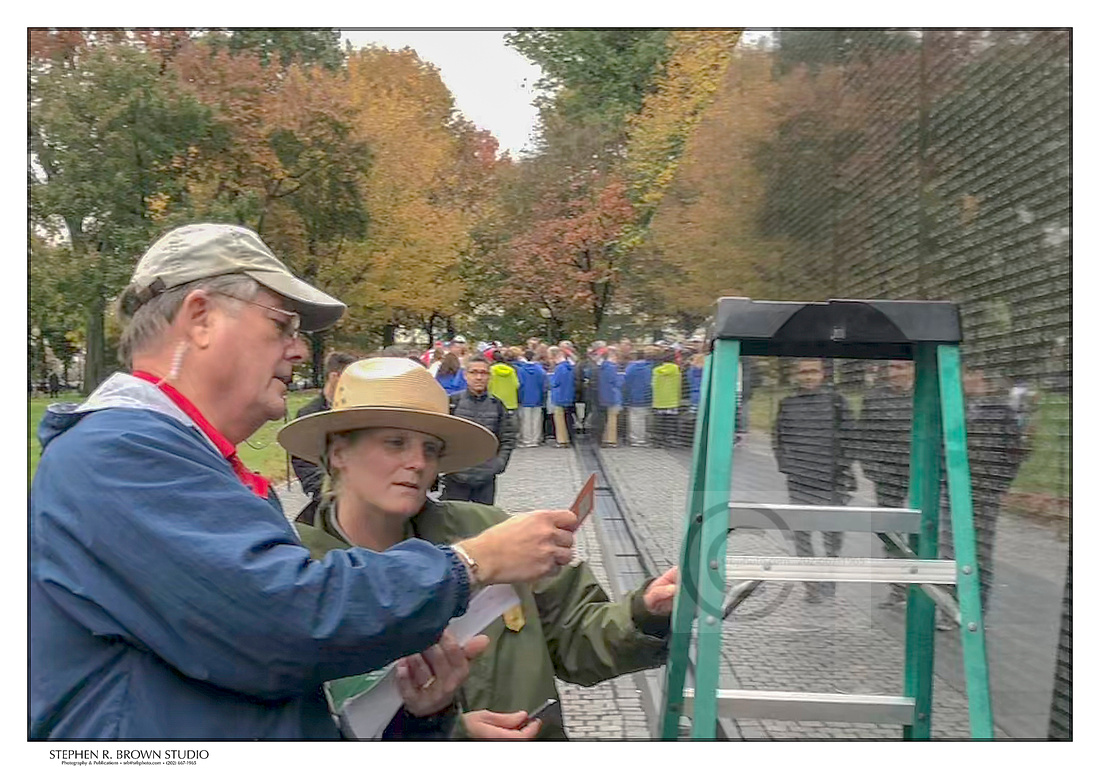 Steve Paulsell with a ranger at the Vietnam Memorial

I forgot to mention that before we leave on Flight Night I put the coordinates of each name that our veterans request in the back of their lanyard so that when they get to the wall they have the exact location of each name they requested... if I got it prior to arriving at the wall. (Also nice that those names get to be with them the whole trip - another special touch) (You can see attachment as I cut them all into smaller pieces of paper to fit in lanyard)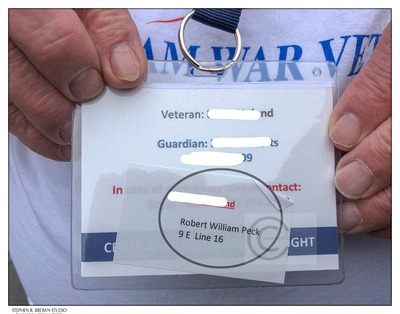 Notice the requested name has been inserted in veteran's lanyard so he knows where it is when he arrives at Wall.
Once the names are etched (rubbed) then I put them in the appropriate packets (I have a separate bag that has 9 x 12 envelopes with the print outs and just add the etchings (rubbings) on the airplane on our way home. They are separated into Red, White & Blue Buses (what bus they are traveling on) and when we land in St. Louis, MO I give these packets to the bus captain to put in a bag that each veteran receives on their way back home. This way they go home with the etching (rubbing) they requested.
Completed Packet

I hope that makes sense.... it's a lot of work but something that once you get in a groove it is pretty smooth and works great! Just wanted to find those extra special touches that makes their trip even more special. As you know, the wall can be very hot and we try to keep the guys as cool as possible. We never tell them they can't do the etching themselves but let them know it has been done (I don't let anyone add their own etchings (rubbings) to my pile as I would be afraid it wouldn't get to the right person - most will take pictures, spend time at the name and sometimes leave something for that veteran.
Most of the time it takes me 1.5 - 2 hours to complete.... mainly depends on how many I can reach (we talked about that) and how many I need the volunteers for."
**In addition to her work with Central Missouri Honor Flight, Michele is an author of two children's books, a community and business activist and recently brought two World War II veterans together as well as the Corsair they flew during World War II.**