I have the good fortune to have chosen Washington, DC as a lifestyle completely mixing my professional and business life. I find this enormously satisfying and feel privileged that I can play with photography and make a semblance of a living. Here's some photos from the recent Infrared experiments and Honor Flights that I have managed to visit with. A long-awaited Spring is still blowing through DC and lifting everyone's spirits!
Washington MonumentTaken with a Nikon 40D converted to infrared capture, the newly renovated Washington Monument looks outstanding.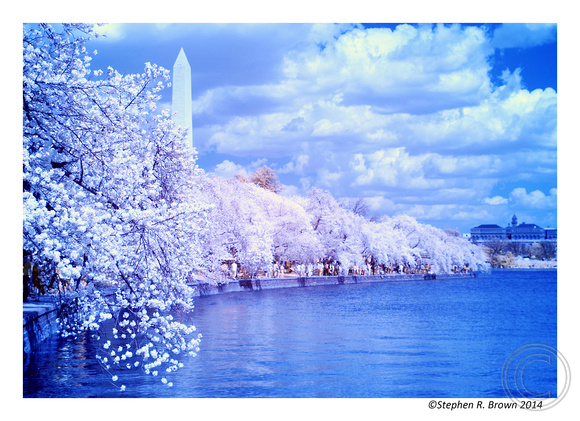 Tidal BasiinInfrared capture run through photoshop
The Honor Flights are rolling through. At one time, Senator Dole and I had a bit of a contest to see who could greet the most Honor Flights. At the time, there were perhaps eight flights operating. Now there are over 161 separate hubs most making several flights a year so now I simply go down to the WWII Memorial and know something will be brewing.
Greeting the VeteransThe "usual suspects" John W. McCaskill, Senators Elizabeth Dole, Senator Robert Dole, John Liszewski, C Patrick McCourt are frequently gathered at the WWII Memorial to greet veterans."
Honor Flight ChicagoFirst flight of 2014
Greeters at the WWII MemorialIt wonderful to see that so many DC residents have stepped up to the plate to greet our elderly veterans
Rochester Honor FlightA twelve piece jazz band from Rochester rocked the WWII Memorial. Best performance I've so far seen at the Memorial!