HONOR FLIGHT CHICAGO April 11, 2018
Life is sweet! When I need a break from DC's endless chatter, I jump on my scooter and get down to the Mall. Visiting with an Honor Flight clarifies my vision of America as it truly is--generous and kind! It also always makes for great pictures! Hopefully Honor Flight will be the movement for which our times will be best and most remembered. I am forever an optimist and I suspect if you're reading, this...so are you.
On Saturdays, I stay at the WWII Memorial but during the week, I've been riding the buses. Escorted by the Park Police with wailing sirens and seemingly suicidal drives into oncoming cars, these rides fly through traffic to the delight of everyone on board. They come with snacks, friendship and camaraderie. I try to make images that speak to family and community. I post them in the hope they are used for personal memories and fund raising.
I met Honor Flight Chicago at the Air Force Memorial and spent some time greeting the "usual suspects" and their veterans. We then headed over to the WWII Memorial where the veterans assembled for a group photo and ceremony performed by the Marine Corps Silent Drill Team.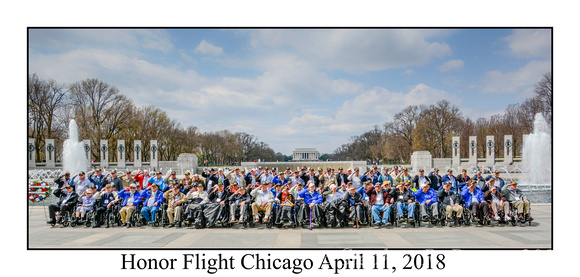 Cherry Blossom traffic had gotten bad at this point but with the help of our escorts, we moved on to the Lincoln, Korea and Vietnam Memorials. The Marine Corps Silent Drill Team did a great job of performing and we retired to the Pavillion for ice cream. Their next stop was the Air and Space Museum at Dulles and a meal and dancing at the Airport. Life is good on the Honor Flight Network. Mary Pettinato quoted one vet: "When I left this morning I was a lonely and tired old man, when I returned this afternoon, I was a proud hero ready to positively spend time with my family and community."
SO HERE ARE SOME VOLUNTEERS FROM APRIL 11, 2018. THANK YOU ALL.
HONOR FLIGHT CHICAGO'S APRIL 11, 2018 FLIGHT SPONSORED BY POPEYES