Honor Flight May 5, 2018 PM
It was nice to get out to the 9-11 Memorial to meet Stars and Stripes out of Wisconsin. I usually miss them on Saturdays because they go the WWII Memorial last taking advantage of quiet afternoons to have the Memorial to themselves. With the size of their fleet, it's a wise idea. Stars and Stripes has always set big goals and always achieved record numbers whether thirty thousand people in Miller ballpark to watch the movie "Honor Flight" or the eight buses in two sets of four with close to four hundred people rolling around DC. That's a lot of people to move in a day so it's ...Go big or Go Home!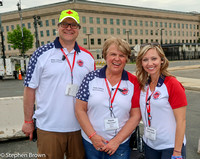 Stars and Stripes has twenty board members and two hundred and fifty active volunteers.
IMG_4345
Pentagon 9-11The Pentagon 9-11 is a beautiful Memorial and I had some time to make a few images. The trees have grown up quite a bit since my last visit and so it has a more finished feel. 
We then sped over to Arlington Cemetery to watch the "Changing of the Guard" at the Tomb of the Unknown Soldier. We were escorted by Park Police Canine officer Robert Beretta and a colleague. Don't go near the car!
IMG_4353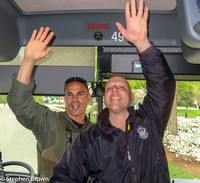 Officer Robert Beretta and colleague.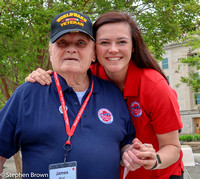 IMG_4334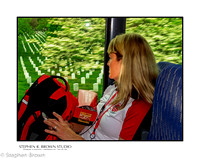 karen in Arlington Cemetery
And while there was another Honor Flight there, the event went smoothly. The Old Guard is tradition bound and demands respect for their work. I've seen them dress noisy civilians down and I would prefer not to get the treatment.
Tomb of the Unknown SoldierArlington Cemetery
At the Air Force Memorial, we happened upon Randy Fogle and Tudy Giordano of Honor Flight Dallas-Ft. Worth. I very much value my Honor Flight friends as they are all special people so it was a pleasure to introduce like-minded folks. The Air Force Memorial is one of the most relaxing Memorials as invites you to sit back, relax and take in the magnificent views framed by the three metal contrails sweeping into the sky.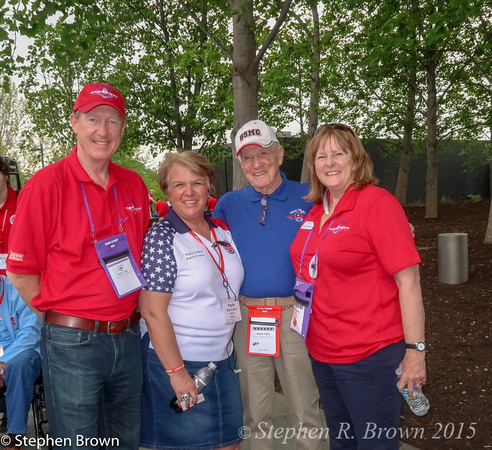 Hub MeetingAt the Air Force Memorial, I had the opportunity to introduce Randy Fogle and Tudy Giordano Dallas Fort Worth Honor Flight to Paula Nelson. They were quickly comparing notes on airline ticketing. Randy and I went back to talking about reptiles in Texas.