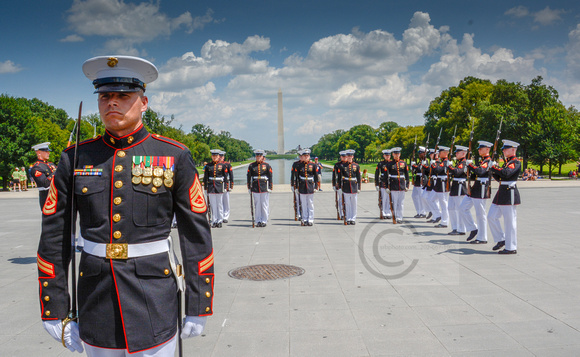 Marine Corps Silent Drill TeamThe Marine Corps Silent Drill Team perform on the plaza of the Lincoln Memorial. If you watch closely, just before they begin throwing rifles, they do a little "sleight of hand" and take off the bayonets. Phew!
As Honor Flight inevitably shifts its focus to Korea and Vietnam, the plaza of the Lincoln Memorial has become a great place to stage a show for the veterans. The Marine Corps Silent Drill Team has been out for the last few Chicago trips. The first time I photographed it, I mentioned to Mary Pettinato that it was a shame that the background was cluttered with tourists. Presto....she has cleared the background of pedestrians by having guardians stretch out ropes and ask people to stay to the sides.
AwesomenessMary Pettinato, Vincent Wilson and Theresa Werner pose for a picture after a well-orchestrated visit to the Lincoln, Vietnam and Korea Memorials complete with ice cream handed out to the vets
Anne Howington and Theresa WernerAnne is a nurse who travels from Tennessee to Chicago for HFC flights. Theresa Werner is the organizer along with boyfriend James of "Honor Flight in support of HFC" which raised $10000.00 this year in addition to dancing at numerous events.
Jenny Nunn BrawleyJenny is the "Flight Coordinator" for HFC and managed to entice General Colin Powell to two HFC events as well as organize the 275 people on the trip.