DC PHOTO BOOKS
exhibitor
Welcome Back! I have missed getting out to document the hubs and anticipating seeing you at the airports and on the Mall.
You should have received a copy of my small Honor Flight Book this month. As always, I look forward to continuing my documentation of Honor Flight and that has grown to ninety plus pages. While I rarely take notes, I've sporadically keep a JOURNAL to remind me of the amazingly beautiful spirit of volunteerism alive in this country. Over the past sixteen years, both the blog and Honor Flight have grown. I've added some information in the blogs about the various memorials which may be helpful in your planning.
I made the WWII Memorial Book as a tribute to my father who was a WWII Veteran and also as a tribute to the American craftsmanship which is embodied in these Memorials. I hope my books which many of the Honor Flights gift to their veterans allow the veterans to "continue the day" with their families.
There are four books/items described in detail at DC PHOTO BOOKS. I recommend the "limited edition" DC PHOTO BOOK as the most elegant of my productions and the best value as it is shrink wrapped with the Honor Flight book. Insert the code "honorflighthub" into the discount box and you receive the discount. The WWII Memorial book and the two postcard packs are automatically discounted. I've set up the books and the boxes they come in for ease of handling and identification.
The average delivery time nationwide is a week. With the new shopping cart and warehouse, you will receive tracking throughout. Any questions, feel free to call or text me. I've updated my fine art website "srbphoto.com" and if you need me, call/text: 202-255-8635. Email: [email protected]
Here's a contemporary price sheet of the available inventory: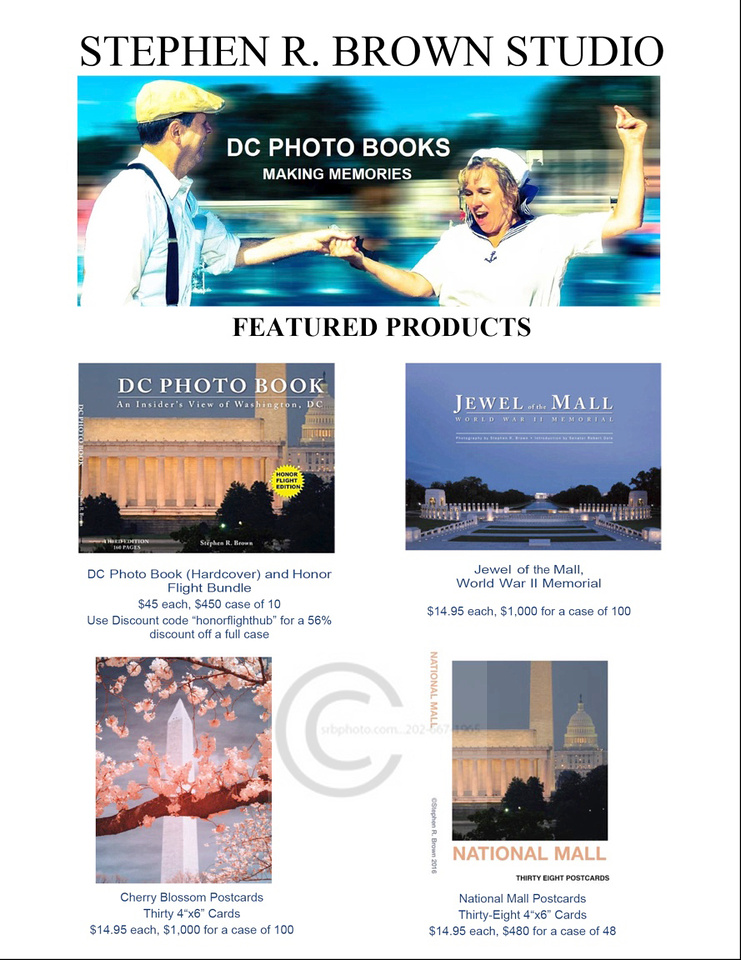 finalpps