MVP@LeRoy Butler escorts a veteran through the sea of well-wishers that turned out to greet this "Flight of Champions" For me the perfect way to finish up a perfect day.
A couple of years ago, Stars and Stripes was a approached by the Green Bay Packers to do a special flight with retired Packers players as guardians. The Packers promised to get the Brewers and the Bucks and better yet, raise the money for the flight. A deal you can't refuse and an opportunity to get three planeloads of veterans to fly to DC! So it was called "Flight of Champions" and indeed it was!
I called Paula Nelson and managed to get a ride and shared my images with all the parties involved. I needed more homecoming images as I had flown with Chicago almost ten years ago and needed another home coming for my long term easy on Honor Flight's volunteerism.
I arrived in Green Bay the night before the flight and was met by an eager group of volunteers who I photographed at Lambeau Field--Wisconsin's Field of Dreams! While all the volunteers are long time Stars and Stripes veterans, this was a new airport and a new organization. Two hundred plus veterans and guardians had to be registered for the flight, served breakfast, flown to DC, toured about and then greeted by five thousand plus people that night. Who's in Charge?...Paula Nelson.
In Milwaukee, there were two more flights loading up. Stars and Stripes is known for "going big" and in the past filled a stadium with fifty thousand people for an Honor Flight event and routinely flies the largest groups of veterans.
20191018-20191018-_DSC9881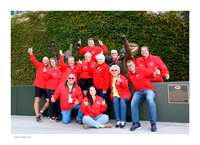 20191018-_DSC9874
_DSC9831
_DSC9802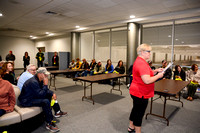 _DSC9894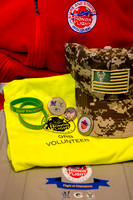 _DSC9858
_DSC9829
_DSC9801
_DSC9998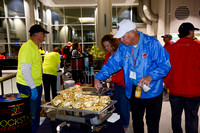 _DSC9965
FLIGHT TIMEAt 4AM, a planeload of veterans lines up for registration for their Day of Honor.
After a good breakfast, as the veterans and guardians board the plane and as they do, VIP Photography takes pictures which in addition to their use for security and advertising also serve the veterans for their everyday photo use. Not many of us has a professional picture in these days of iPhones. VIP has been an important patron of Stars and Stripes as they professionally take and archive the photos from each flight.
After the Pledge of Allegiance and some words from local civic leaders, we were off and started our flight with a water cannon salute. Packers alumni Jared Abbrederis, LeRoy Butler, Jarrett Bush, Johnnie Gray and Bill Schroeder were on the flight and no sooner were we airborne than they were shaking hands, signing autographs and bantering with veterans.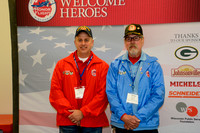 _DSC9949
_DSC9951

I was seated right across from Leroy Butler, the originator of the Lambeau Leap and the original Mr. Nice Guy. He and the other players participated fully in the day available at any moment to chat, shake hands and sign everything from t-shirts to hats. And having spent the day with LeRoy, it was hard to believe his ferocious reputation on the field!
LeRoy ButlerHe played in 181 games, earned a Super Bowl ring, for Super Bowl XXXI, following the 1996 season, was selected as an All-Pro four times and was selected to the Pro Bowl four times (1993, 1996, 1997, and 1998). He was named to the 1990s NFL All Decade Team, by the Pro Football Hall of Fame, and was later inducted into the Green Bay Packers Hall of Fame, in 2007. On November 6, 1997, the Green Bay Packers signed Butler to a five-year, $15 million contract extension that includes a signing bonus of $5 million.[5] On October 7, 1999, the Green Bay Packers signed Butler to a three-year, $21.50 million contract extension that includes a signing bonus of $1.63 million.[6]